Traditional German Christmas food is a way to add something new and unique to your holiday menu. Christmas celebrations have a long history, and every celebration brings food that becomes a staple of the occasion. Germany has many Christmas traditions from Christmas markets to Christmas goose. Let's learn about the foods that make German Christmas traditions special.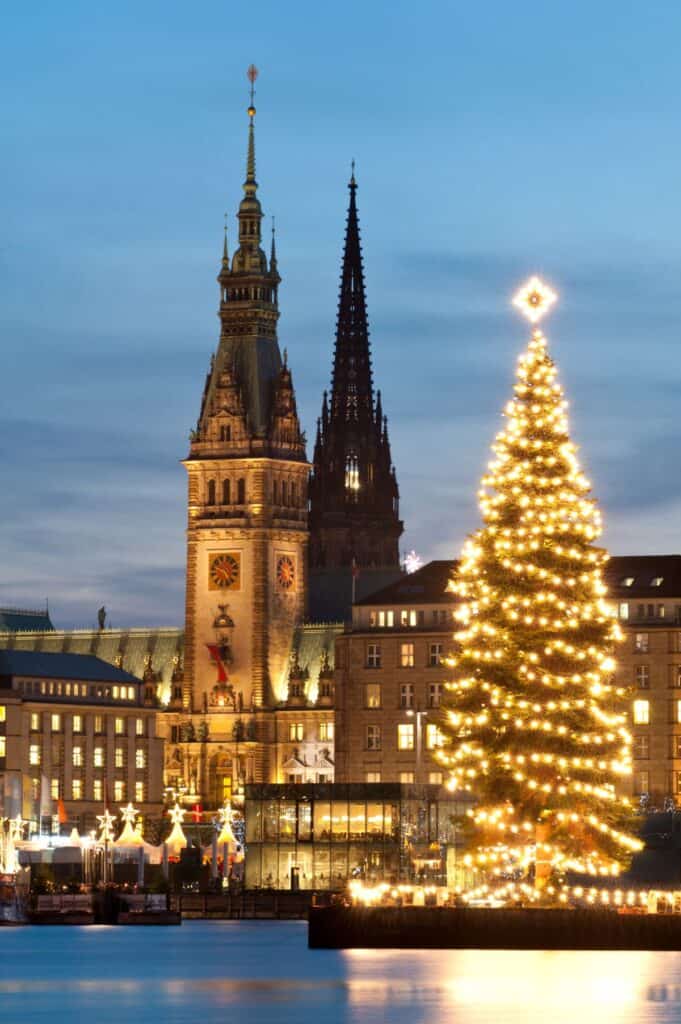 When Do Germans Have Their Holiday Meal?
Like all other people, Germans enjoy eating. Traditions of their Christmas season vary from region to region within their own nation. Nevertheless, there are still many dishes that are popular nationwide. The German Christmas menu has evolved over time. From the middle ages to now, food has been a big part of their customs.
Germans are known for eating their Christmas dinner on the 24th of December rather than the 25th. The 24th of December is known as Heiligabend, which translates to "holy night," and is when they celebrate a traditional German Christmas dinner. The family starts opening their Christmas presents after dinner as they sit around the Christmas tree.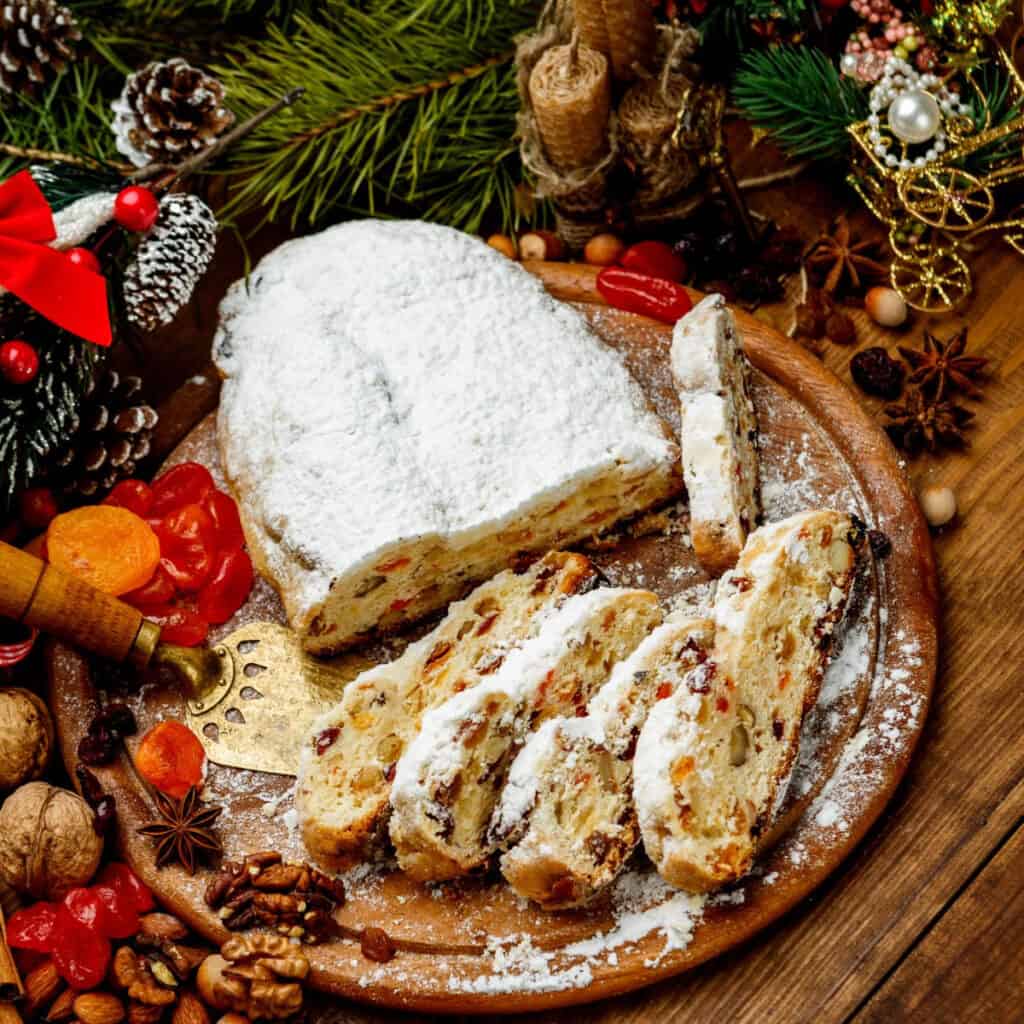 Traditional German Christmas Side Dishes
Although they may not be the centerpiece of the meal, side dishes are still important in German food traditions. To that end, here are some traditional German Christmas side dishes. Expect a lot of potatoes on this list because potatoes are a German classic. You may spot a popular German food on this list that your family already enjoys.
Bratkartoffeln
As was already mentioned, Germans adore potatoes, and they are considered to be an essential component of every meal. Red potatoes, which are renowned for being silky and creamy, and German potatoes have many similarities.
The love of potatoes among Germans can be traced to the 17th century when they started to appear frequently in both German and Austrian cuisines. Since then, many potato-based foods, particularly side dishes, have emerged, with bratkartoffeln (pan-fried potatoes) being one of them. Potato pancakes are another pan-fried German favorite.
You must cut the potatoes into wedges for this dish. It will then be boiled before being deep-fried. Once finished, you might want to season it to taste with salt and pepper. It can be served plain or combined with vegetables, onions, ham, bacon, seasonings, herbs, and spices.
This popular German side dish is enjoyed both in restaurants and at home gatherings where it is typically served with a side of sausages, meat, fish, or eggs.
Kartoffelbrei
The kartoffelbrei, also known as mashed potatoes, is another potato side dish that is worth trying even though it is not as well-known as the bratkartoffeln, which is the first dish on this list.
To achieve this smooth and silky consistency, the mashed potatoes are whisked vigorously. To get that rich flavor, you'll then slather it in heavy cream and butter. It is also recommended to add some chopped parsley for an additional flavor boost and a splash of color. German mashed potatoes go perfectly with stuffed goose and pork roast.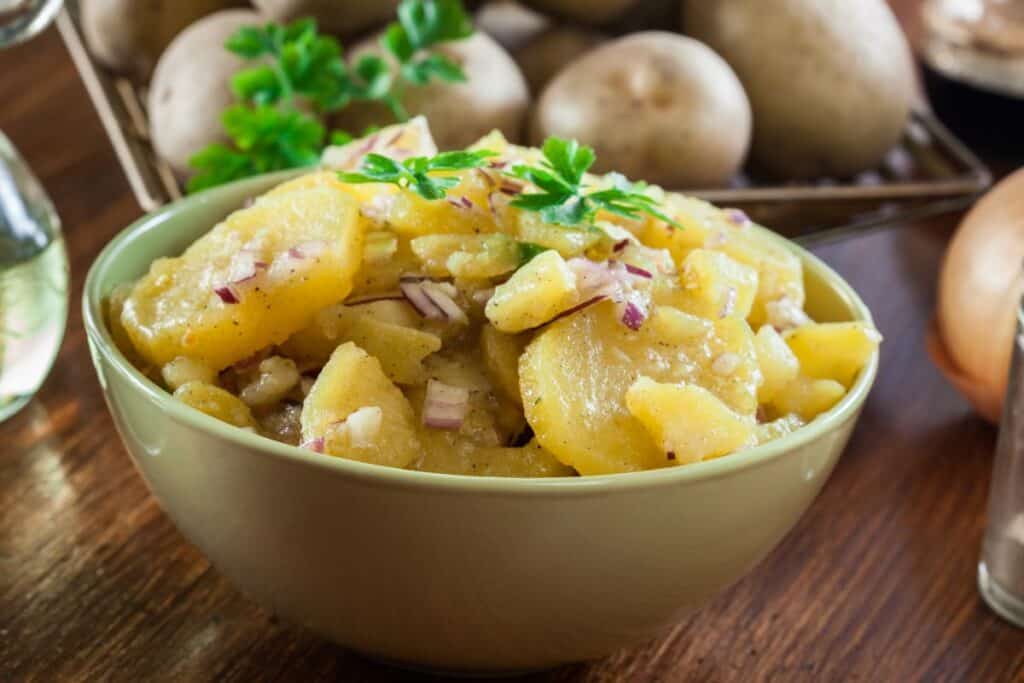 Kartoffelsalat
The Kartoffelsalat, another traditional side dish served on German tables, is here to finish off our discussion of potatoes. It differs somewhat from the potato salad we are familiar with in America.
The potatoes in this salad don't need to be peeled, and the dressing is thick, tangy, and made with vinegar and bacon grease in this German take on potato salad rather than mayonnaise. This dish is additionally served hot and goes great with bratwurst. You really don't need a special occasion to make German potato salad. It is a staple in German homes and many make it here in the US.
Traditional German Christmas Main Dishes
We are now at the German main course, the centerpiece of the meal. The following dishes each have a unique strategy for dominating the plate. Christmas eve dinner isn't complete without a main dish!
Christstollen
A dry cake in the shape of a loaf of bread, filled with marzipan, nuts, spices, and dried or candied fruit, and dusted with powdered sugar or icing sugar, is what is known as a stollen. It is a traditional Christmas bread that is frequently referred to as Weihnachtsstollen or Christstollen during the holiday season. This is available on Amazon or at any German supermarket. It isn't a festive season without fruit bread and a hot drink.
Weihnachtsgans
The primary ingredient in this dish is a goose, not a turkey, and it is stuffed similarly to the Thanksgiving turkey that we are all familiar with. Typically served with potato dumplings, red cabbage, and a wine-flavored sauce.
During the holiday season, this dish is also served in many German restaurants. It can also be made at home, and the sauce, which is made with wine, gravy, and the goose's cooking juices, is said to be the key to the dish's delicious flavor. The aroma of roast goose will fill your home and you will know it is December 24th!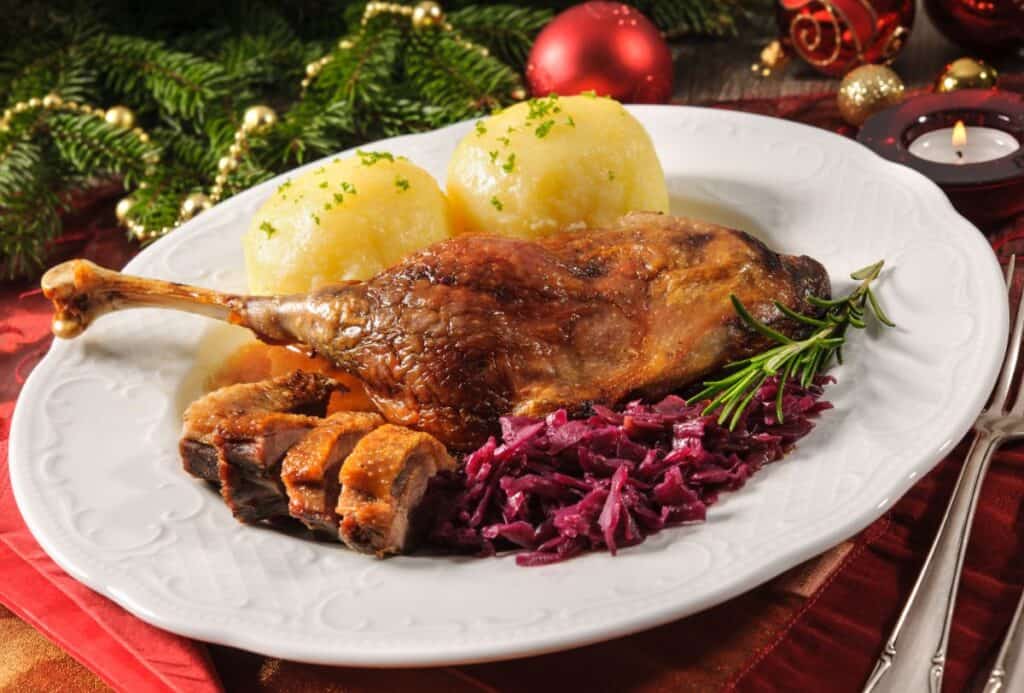 Rehruecken
Try Rehruecken if you're looking for a delectable dish; it won't let you down. The centerpiece of this dish is roasted venison, which is served with pears, spaetzle, and Brussels sprouts. There are many restaurants in Germany that serve this dish because it is so well-liked there. Be sure to add a glass of red wine to the table especially at Christmas time.
Traditional German Christmas Desserts
Desserts are necessary to finish off any meal, right? So, to help you up your dessert game this holiday season, here are some traditional German desserts.
Zwetschgenknoedel
After dinner, the Zwetschgenknoedel, or German Plum Dumplings, make a lovely dessert. It's such a sweet idea to serve these little dumplings as a dessert after dinner. Its quark, a soft cheese that can be either smooth or more like cottage cheese in texture, gives the dumpling dough a wonderful mild flavor and excellent texture.
The slightly tart plums used in the stuffing are a welcome change from the traditional apple-cinnamon mixture because they gradually become tender. When cooking, make sure the water is warm but not boiling, as the dough has a tendency to be ruined by boiling water.
This traditional German food is a favorite of young and old alike. Pop one in your mouth before you head out to midnight mass.
German Fruit Flan
The German Fruit Flan is another popular choice. As a side note, German flans are more similar to fruit tarts than they are from other countries. The base of the German flans is spongey, whereas the base of tarts is more pastry-like.
This dessert is simple to make at home but is also simple to purchase from a store. To make this at home, all you'll need is flour, sugar, eggs, and baking powder. Bake the mixture in a tart pan until it turns golden brown.
Put some vanilla pudding and the fresh fruit of your choice on top once it has cooled. You can wipe it off with some warmed, diluted apricot jam for a nice shiny finish.
Spaghetti Ice Cream
This spaghetti ice cream sounds both intriguing and peculiar, don't you think? However, it's not what you think, so don't worry. To create the appearance of spaghetti noodles in this German dessert, press vanilla ice cream through a potato ricer.
If you want to give the spaghetti sauce a cheese-topped appearance, you could add white chocolate shavings and strawberry sauce on top. If you want to go all out, add some brownies that could substitute for the meatballs. Kids will love it if you serve this dish on Christmas day.
German Gingerbread Cookies
It isn't Christmas without some Christmas cookies. In Germany the most popular Christmas cookie is the gingerbread cookie. Lebkuchen is the German word for gingerbread. There are many ways to make gingerbread cookies. Some use honey instead of molasses for a softer, chewier cookie. Different parts of Germany make these cookies different ways. Try as many variations as you can because they will all be amazing.
If you don't want to make these yourself, then head out to a traditional German Christmas market and buy some. Don't forget a mug of hot chocolate too!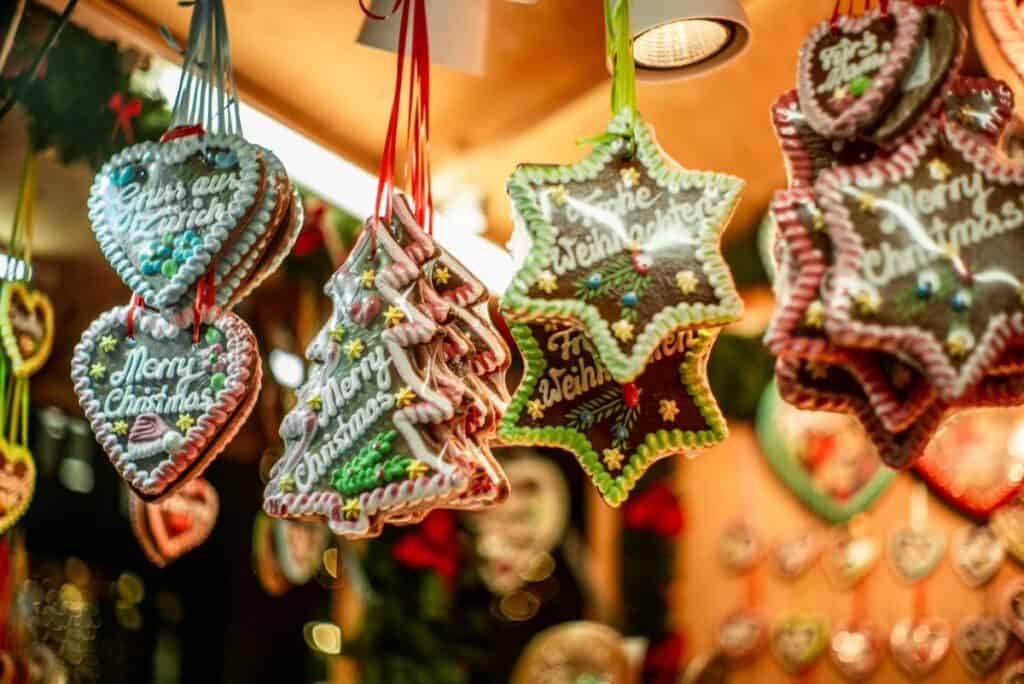 Easy Traditional German Christmas Food To Try This Year
Here are some simple, traditional German Christmas dishes you should try this year if you find this menu a little intimidating or if you simply want to add some German flair to your Christmas menu at the last minute.
Kinderpunsch
The first drink on our list is a drink called Kinderpunsch, or "Children's Punch," which is a great substitute for mulled wine if you don't like it. This drink is ideal for both young children and adults who are abstaining from alcohol.
To make this beverage, combine fruit tea with fruit juice, sugar, cinnamon, cloves, and vanilla in a pot. Mix everything well, then quickly heat it. And now you can serve it!
German Beer Cheese Spread
Give your bread some German flair if you want to take it to the next level. This German Beer Cheese Spread goes great with pretzels, crackers, and all kinds of bread.
Cheddar cheese, mustard, Worcestershire sauce, and seasonings are combined to create this dish, which has a medley of rich, salty, tangy, umami, and earthy flavors. If you are having a holiday celebration you will spread good cheer by serving this good food!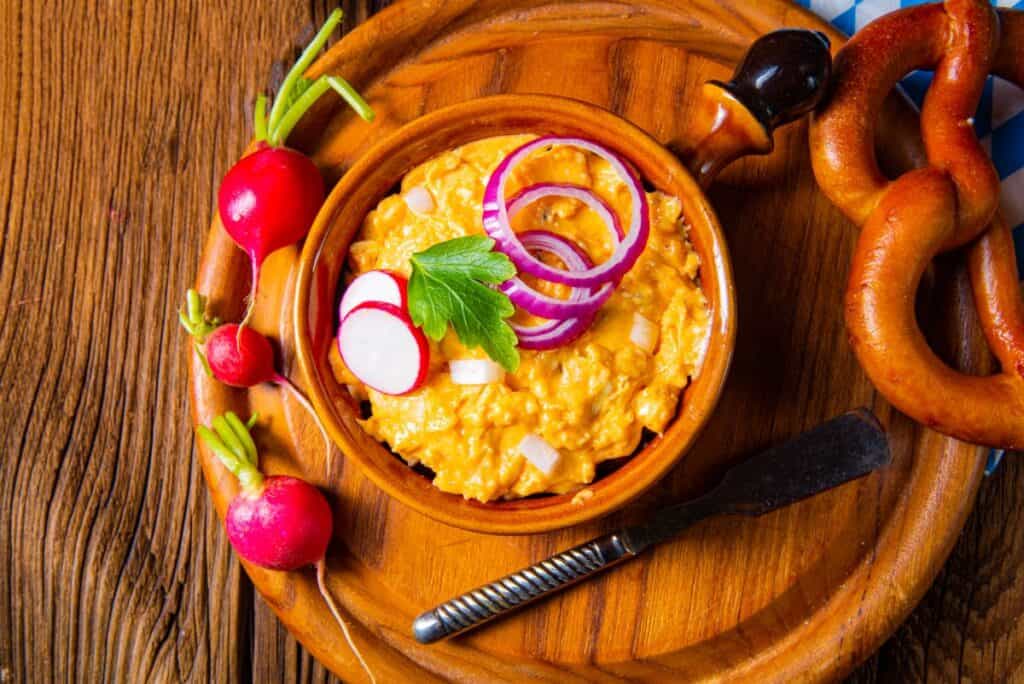 Beer Radish
You might want to try this Beer Radish if you don't want to serve the traditional chips with your tea or beer. All you need for this beer-friendly appetizer is a Daikon radish, salt, and pepper. It is a crisp, crunchy, and tangy starter.
This recipe requires no cooking at all; simply slice your radish, season it with salt and pepper, and then set it aside for 30 minutes before serving. You will undoubtedly get the ideal beer pairing by letting the radish soak in its own juice and combining it with salt and pepper.
MORE CHRISTMAS DISHES
It won't hurt to serve something novel from a different cuisine, especially if it is as straightforward as the dishes on this list. Your family will be surprised when you include new dishes on your holiday menu, adding to the celebration's special atmosphere.
Even outside of the holiday season, they will undoubtedly ask for these dishes. It is fun to try traditional dishes from other places. They may make a way into your own traditions.
If you liked this article, you'll definitely like the subsequent recipe posts that will walk you through the process of making simple dishes to serve during the holidays.
Be sure to PIN this for later and SHARE it on Facebook!