A roast turkey dinner is a popular choice for holiday dinners and these tips for roasting a turkey will help you get a perfect bird every time. Sitting down to a perfectly roasted turkey will make everyone at the table smile.
WHY DO WE EAT ROAST TURKEY AT CHRISTMAS?
Turkey is a very common protein that is eaten at many Christmas dinners around the world.
History suggests that turkeys were chosen as the main dish on Christmas instead of chicken or beef. The chickens were needed for their eggs and the cows were needed for the milk.
Turkey was a nice alternative to goose and was big enough to feed a large family with leftovers!
The tide turned around 1950 when turkey became more popular than goose on the Christmas dinner table.
TIPS FOR ROASTING A PERFECT TURKEY
A delicious, moist slice of roast turkey is a favorite part of any holiday meal. Here are some tips for roasting a turkey that will wow family and friends the next holiday meal or another special occasion.
CHOOSE THE RIGHT TURKEY
Roast turkeys become more prevalent in supermarkets about a month before the holiday. It is a good idea to buy early, as last-minute purchases may mean having to choose a turkey that is too big or small, or not finding one at all.
For an organic turkey from a local farm or butcher, remember to place an order well ahead of time. Allow at least two months' notice to avoid disappointment.
You can buy a fresh or a frozen turkey.
Remember that no turkeys sold in the US can have been given any hormones or steroids. You may see hormone-free labels on turkeys at the store, but the claim goes for all the turkeys!
WHAT SIZE BIRD DO I BUY?
It is important to know approximately how many guests you will be feeding in order to gauge the size of bird you need to buy.
Allow 1/2 to 3/4 pound of turkey per guest.
Inform butcher or organic farmer of how many guests are expected. He or she will be able to help to estimate what size turkey is necessary.
TIPS FOR PREPARING THE TURKEY
If you are preparing a frozen bird, thaw the turkey out well before the day it will be cooked. Large turkeys can take a long time to thaw.
The safest way to thaw a turkey is slowly in the refrigerator. Allow about 24 hours for every 5 pounds of turkey. This will require planning ahead!
If the frozen turkey is already stuffed, follow directions on the packaging. These directions may recommend that the turkey not be thawed before cooking it.
Here are some things to remember:
Do not refreeze after thawing.
Frozen turkeys often contain a plastic bag that includes the neck, kidneys, and liver. Remove this bag before cooking.
Use a damp cloth to wipe down the thawed or fresh turkey. Wipe the inside as well.
If not done already, tie the legs together.
HOW TO SEASON A TURKEY
There are many ways you can season a turkey.
Here are some good ideas of ways to season the turkey:
Use generous amounts of spices for the turkey. Rub salt, pepper, parsley, and garlic salt into the skin of the turkey. If desired, slice onions and garlic and add as well. These will add flavor to the turkey gravy to be made from the juices.
To add a layer of flavoring to the turkey, place strips of uncooked bacon on the top of the roast. The bacon will be cooked before the turkey, so remove it before it begins to burn. The bacon can be reserved for stuffing (crumble over the stuffing) or used with turkey leftovers for wraps or sandwiches or other turkey recipes.
Try a turkey brine for extra flavor and tenderness. Soaking the turkey in the brine will add a whole new level of yum to your meat.
Marinating the turkey with a marinade mixture is a great way to season the bird. You can buy an already made marinade at the store or make your own. This Citrus Chipotle Turkey Marinade recipe sounds amazing!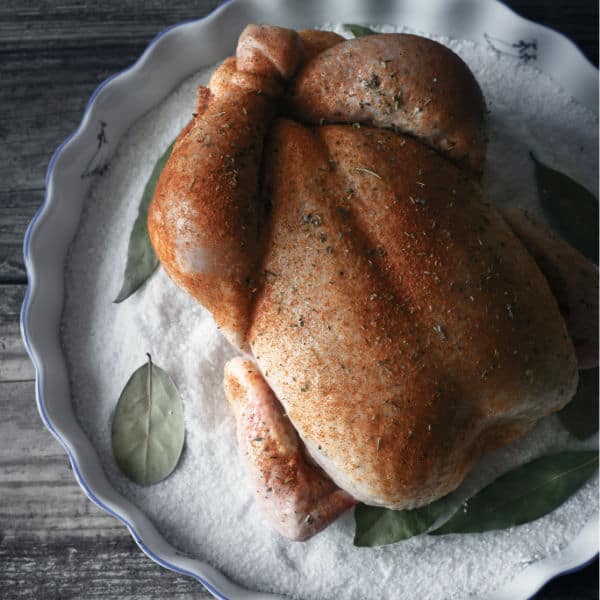 HOW LONG SHOULD YOU COOK A TURKEY?
Knowing how long to cook a turkey is a common question.
Place in an open roasting pan. If desired, cover the turkey with foil. Check the turkey several times and, if desired, carefully collect some juices from the bottom of the roast pan and drizzle over the turkey.
Cook a thawed turkey at 325° F. The following cooking times are estimates for an oven-ready turkey.
4 to 6 pounds: cook for 3 – 3 3/4 hours
8 to 10 pounds: cook for 4 – 4 1/2 hours
14 to 16 pounds: cook for 5 – 6 hours
Use a meat thermometer to test the internal temperature of the turkey. Test the inside of the thigh. The temperature should read about 200° F. Another indicator of the turkey being cooked is if the drumsticks twist off easily.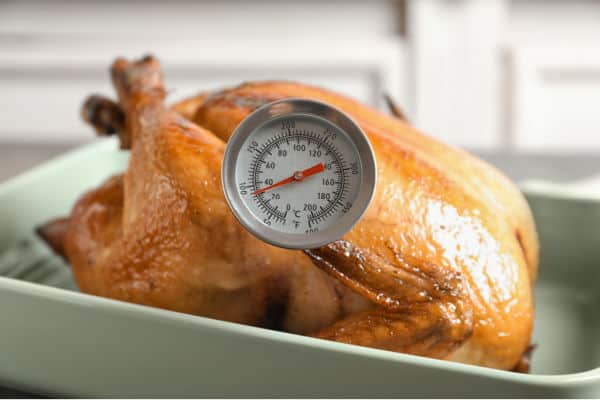 SHOULD I STUFF THE TURKEY?
Stuffing a turkey used to be very commonplace. Now we know more about foodborne illnesses and if not done properly putting stuffing inside the turkey can cause issues.
Do not add the stuffing until the turkey is ready to be placed in the oven. This is a safety measure to avoid potential food poisoning. If all the stuffing does not fit inside the turkey, cook the rest in a separate casserole dish.
Be sure to to check the internal temperature to make sure the meat and stuffing have cooked properly. If the stuffing inside doesn't look cooked do not eat it.
Check out all these tips for safely stuffing your bird. It is always better to be safe than sorry. No one wants to spend the holidays with food poisoning!!
All that is left is for you to carve the bird and enjoy your Christmas (or Thanksgiving) dinner with friends and family! These tips for roasting a turkey should make the whole process a breeze.
Here are some more great Christmas dinner recipes:
Please PIN this for later and SHARE on Facebook!