If you love to laugh these funny Christmas quotes are just the trick to a holly jolly holiday season. These hilarious Christmas quotes will have you smiling for sure.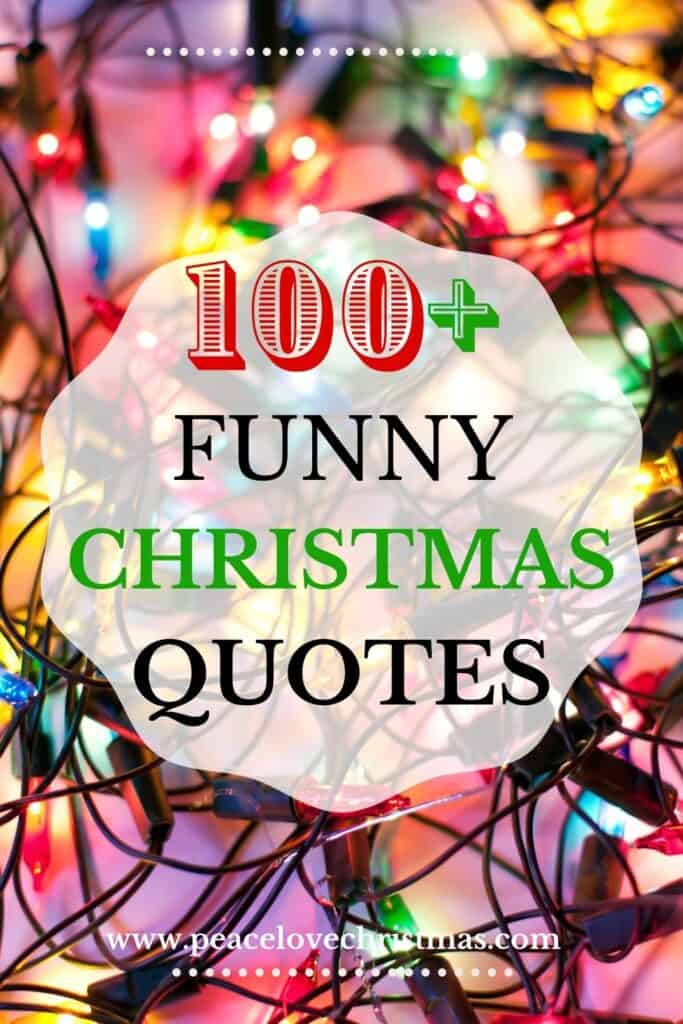 HOW TO USE FUNNY CHRISTMAS MOVIE QUOTES
I love to laugh and smile. When I get stressed out you will see fewer smiles and hear less laughing from me.
Here are some ways to use these quotes that make you laugh at the holidays:
Christmas is my favorite holiday and typically December is my favorite month of the year because of the spirit of Christmas.
Unfortunately, it can also be the most stressful time of year and this stress can lead to burn out.
One way to avoid getting mired down in the hustle and bustle of Christmas is to stop and intentionally find something to laugh about!
These funny Christmas quotes can help make your day brighter and lighter!!
Remember, laughter is the best medicine!
FUNNY CHRISTMAS QUOTES FROM MOVIES
Some of the best and most hilarious funny Christmas quotes come from our favorite holiday movies.
I am starting my list of quotes with some beloved movie quotes!
QUOTES FROM ELF
I remember thinking that I would hate the movie Elf before I saw it. This was a movie I did not go to the theater to see.
When I finally got around to watching it on TV one year I fell instantly in love. I have a true kindred spirit in Buddy the Elf! We both LOVE Christmas!
Here are some funny Christmas quotes from Elf.
Treat every day like Christmas. –Buddy the Elf
I just like to smile; Smiling's my favorite. –Buddy the Elf
The best way to spread Christmas cheer is singing loud for all to hear. –Buddy the Elf
Don't be a cotton-headed-ninny-muggins! –Buddy the Elf
There's room for everyone on the nice list. –Buddy the Elf
I'm sorry I ruined your life and shoved 11 cookies into the VCR. –Buddy the Elf
You have such a pretty face. You should be in a Christmas card. –Buddy the Elf
Son of a nutcracker! –Buddy the Elf
Does somebody need a hug? –Buddy the Elf
He's an angry elf. –Buddy the Elf
We elves try to stick to the four main food groups; candy, candy canes, candy corn and syrup. –Buddy the Elf
I'm in love, I'm in love and I don't care who knows it. –Buddy the Elf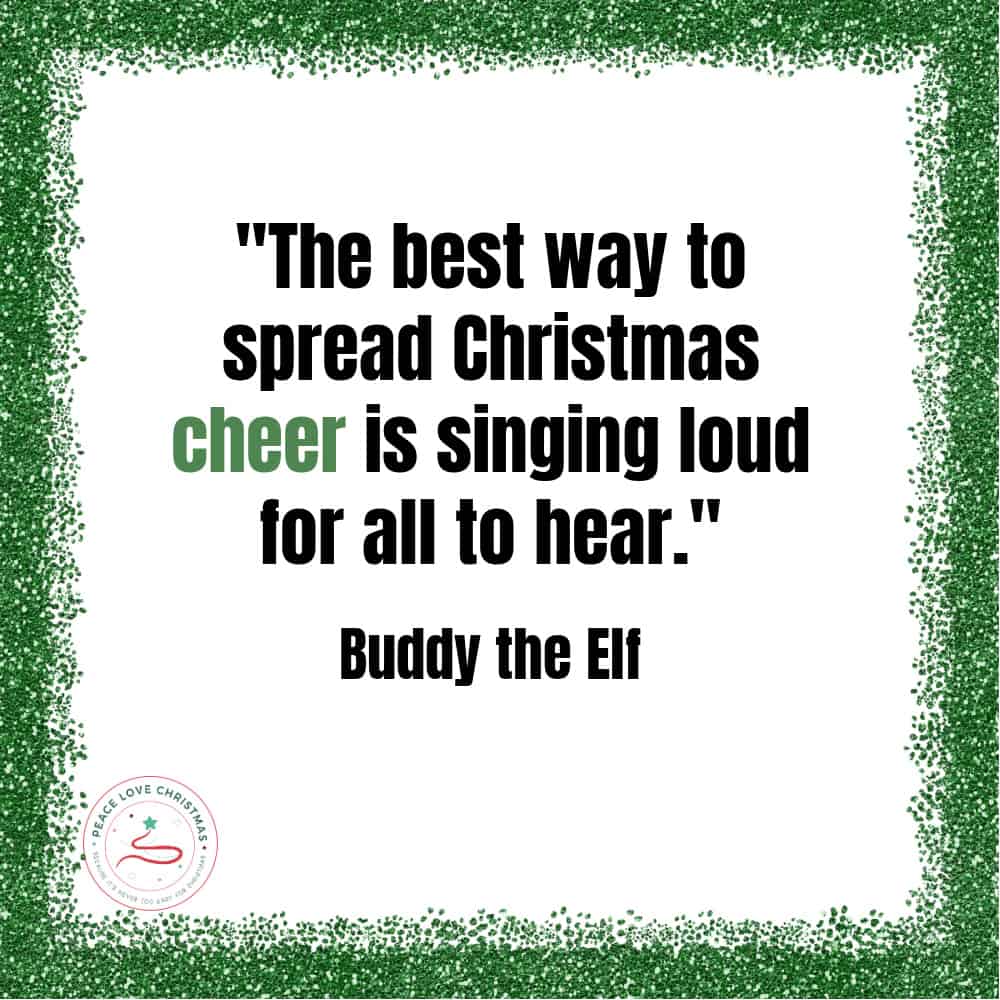 QUOTES FROM NATIONAL LAMPOON'S CHRISTMAS VACATION
My all-time favorite movie is National Lampoons Christmas Vacation. I love all the vacation movies because Chevy Chase is hilarious!!
So many great Christmas quotes came out of this movie.
Here are some of my favorite National Lampoon's Christmas Vacation Christmas Quotes.
The jolliest bunch of a**holes this side of the nuthouse. –Clark
Is your house on fire Clark? No, Aunt Bethany, those are the Christmas lights. –Aunt Bethany and Clark
It was an ugly tree anyway. –Uncle Lewis
Nobody's walking out on this fun, old-fashioned family Christmas. –Clark
Worse? How can things get any worse? Take a look around you, Ellen. We're at the threshold of hell! –Clark
Would it be indecent to ask the grandparents to stay at a hotel? –Audrey
It's not going in our yard, Russ. It's going in our living room. –Clark
You couldn't hear a dump truck driving through a nitroglycerin plant! –Uncle Lewis
Dad, you taught me everything I know about exterior illumination. –Clark
I'm sorry, this is our family's first kidnapping! –Ellen
If that thing had nine lives, she just spent'em all. –Cousin Eddie
What is it? A letter confirming your reservation at the nuthouse? –Grandpa Art
Wouldn't be the holiday season if the stores were any hooter than they …hotter than they are. –Clark
Eat my road grit, liver lips! –Clark
Clark, Audrey's frozen from the waist down. –Ellen
And why is the carpet all wet, Todddddd? — Margo
I don't know what to say, but it's Christmas and we're all in misery. –Ellen
Oh, the silent majesty of a winter's morn, the clean, cool chill of the holiday air, and an a**hole in his bathrobe, emptying a chemical toilet into my sewer. –Clark
Can I refill your eggnog for you? Get you something to eat? Drive you out to the middle of nowhere and leave you for dead? –Clark
Mom? This box is meowing. –Rusty
Grace? She died 30 years ago! –Aunt Bethany
If I woke up tomorrow with my head sewn to the carpet, I wouldn't be more surprised. –Clark
Save the neck for me, Clark! –Cousin Eddie
Merry Christmas! Sh*tter was full! –Cousin Eddie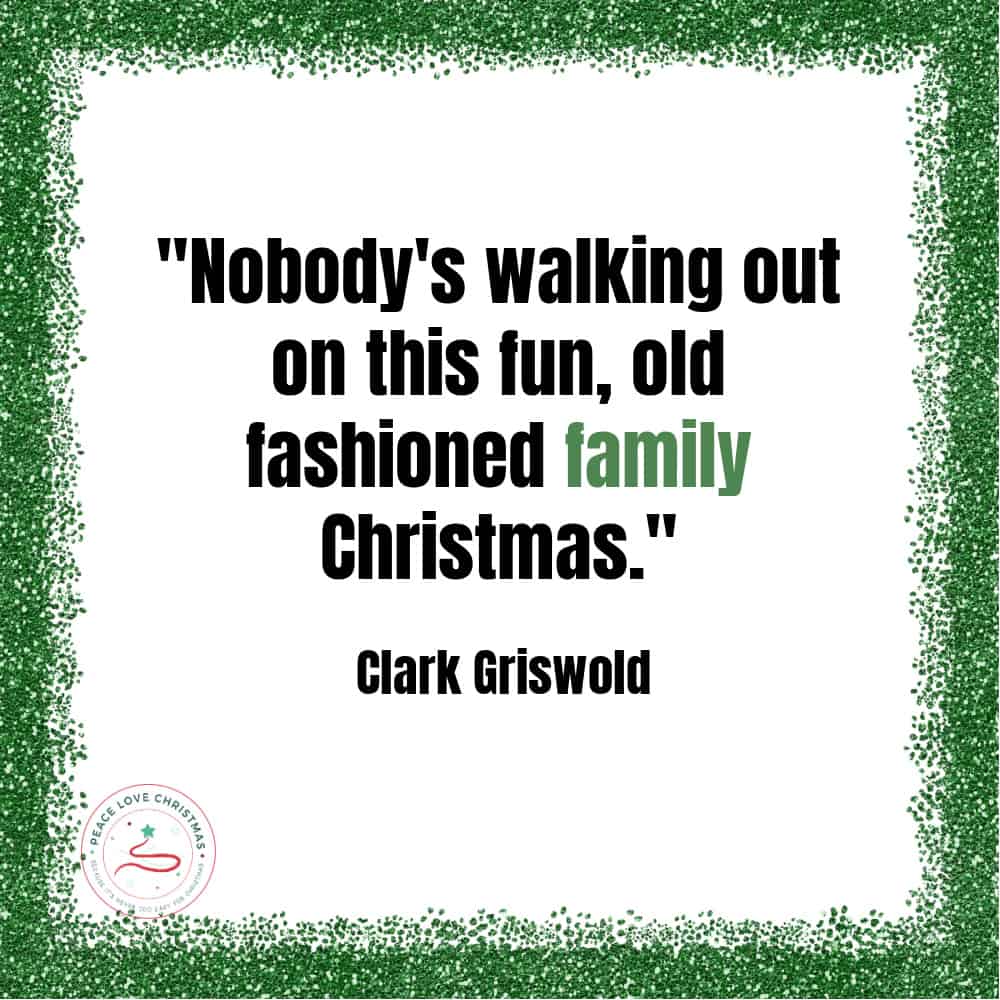 QUOTES FROM HOME ALONE
Home Alone is a classic Christmas movie and one that all four of my kids have loved. I hate to think how many times I have seen this movie!!
Here are some fun Christmas quotes from Home Alone.
Guys, I'm eating junk and watching rubbish! You better come out and stop me! –Kevin
Keep the change, ya filthy animal. –Gangster Johnny
Look what you did you little jerk. –Uncle Frank
There are 15 people in this house and you're the only one who has to make trouble. –Kate
I made my family disappear. –Kevin
Bless this highly nutritious microwavable macaroni and cheese dinner and the people who sold it on sale. Amen. –Kevin
Hey, I'm gonna give you to the count of ten, to get your ugly, yella, no-good keister off my property, before I pump your guts full of lead! 1, 2, 10! –Gangster Johnny
A lovely cheese pizza. Just for me. –Kevin
You can be too old for a lot of things, but you're never too old to be afraid. –Marley
This is my house. I have to defend it. –Kevin
A, I'm not that lucky. Two, we use smoke detectors and D, we live on the most boring street in the whole United States of America, where nothing even remotely dangerous will happen. Period. –Buzz
I don't care if I have to get out on your runway and hitchhike! If it costs me everything I own, if I have to sell my soul to the devil himself, I am going to get home to my son. –Kate
Will you please tell Santa that instead of presents this year, I just want my family back. –Kevin
I got you milk, eggs and fabric softener. –Kevin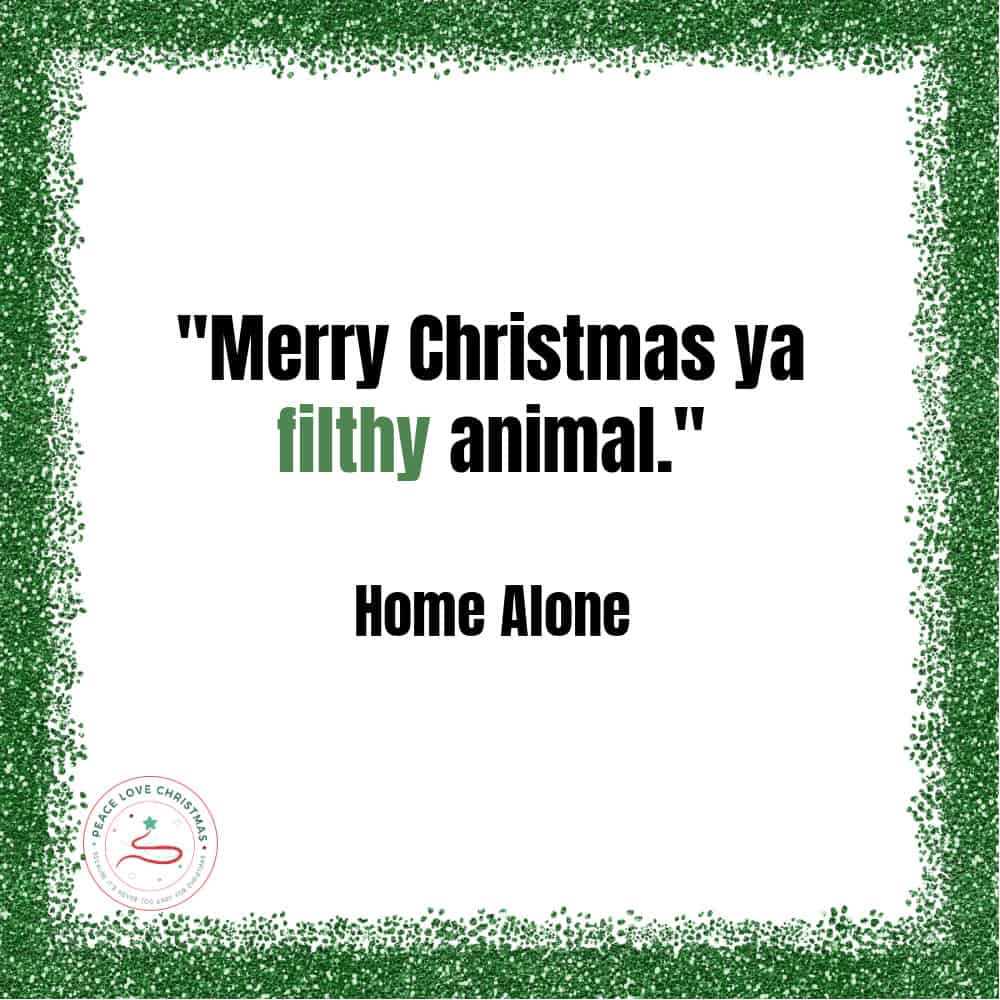 QUOTES FROM A CHRISTMAS STORY
My family's favorite Christmas movie will always be A Christmas Story. It has so many iconic and hilarious parts. We always love watching it every year, and we love making references to it.
Here are a few highlights of some of the best quotes from A Christmas Story
I want an Official Red Ryder carbine-action two-hundred shot range model air rifle. –Ralphie
This is central to the entire movie. Its Ralphie's one big gift that he wants this year, and he knows it, so well in fact he can say the entire name from memory all in one breath. And he certain comes up with a number of schemes to try and get his Christmas wish, but there is just one thing standing in his way:
You'll shoot your eye out! –Mother, Miss Shields, and even Santa
The major roadblock to Ralphie's big dream is this line he hears over and over and over again. The danger of having an air rifle, and a great quote whenever there is a kid who wants something probably just a bit too dangerous for them.
I can't put my arms down! –Randy
This quote always brings back memories of Randy wrapped up in layers of clothing to try and keep warm. And its a wonderful quote to bring up whenever you have to get all bundled up to battle the harsh cold of winter. It's also a great scene to show to any kids who dislike putting on all their winter gear.
Here are a number more funny Christmas quotes from A Christmas Story that will not disappoint!
He looks like a deranged Easter Bunny. –Father
It's a Major Award! –Father
Fragile [pronounced frageelay]. Must be Italian. –Father
Only one thing in the world could've dragged me away from the soft glow of electric sex gleaming in the window. –Ralphie
In the heat of battle, my father wove a tapestry of obscenity, that as far as we know is still hanging in space over Lake Michigan. –Ralphie
Daddy's gonna kill Ralphie! –Randy
Over the years I got to be quite a connoisseur of soap. Though my personal preference was for Lux, I found that Palmolive had a nice, piquant after-dinner flavor – heavy, but with a touch of mellow smoothness. Lifebuoy, on the other hand… Yechh! –Ralphie
Ohhhh fuuudge! –Ralphie
Only I didn't say "Fudge." I said THE word, the big one, the queen-mother of dirty words, the "F-dash-dash-dash" word! –Ralphie
It was all over – I was dead. What would it be? The guillotine? Hanging? The chair? The rack? The Chinese water torture? Hmmph. Mere child's play compared to what surely awaited me. –Ralphie
My father worked in profanity the way other artists might work in oils or clay. It was his true medium, a master. –Ralphie
Some men are Baptists, others Catholics; my father was an Oldsmobile man. –Ralphie
Ralphie, you're lucky it didn't cut your eye! Those icicles have been known to kill people. –Mother
I TRIPLE-dog-dare ya! –Schwartz
He had yellow eyes! So help me God yellow eyes! –Ralphie
Randy….how do the little piggy's eat? –Mother
The heavenly aroma still hung in the house. But it was gone! All gone! No turkey! No turkey sandwiches! No turkey salad! No turkey gravy! Turkey hash! Turkey a la king! Or gallons of turkey soup! Gone! All gone! –Ralphie
All right. Everybody upstairs, get dressed. We are going out to eat. –Father
Don't you touch that! You were always jealous of this lamp. –Father
Every family has a kid who won't eat. My kid brother had not eaten voluntarily in over three years! –Ralphie
Christmas was on its way. Lovely, glorious, beautiful Christmas, upon which the entire kid year revolved. –Ralphie
QUOTES FROM THE SANTA CLAUSE
I remember going to the movie theater to see The Santa Clause. It is very high on my favorite Christmas movies list!
Here are some Christmas quotes from The Santa Clause movie.
If something should happen to me, put on my suit; the reindeer will know what to do. –Scott Calvin
Oh, it's middle age, buddy. It happens. And with that body, you should be thankful you have hair. Look, if it bothers you, you can dye it – and you should diet! –Dr. Novos
Can we take a direct flight back to reality, or do we have to change planes in Denver? –Scott Calvin
Who gave you permission to tell Charlie there was no Santa Claus? I think if we're going to destroy our son's delusions, I should be a part of it. –Scott Calvin
Merry Christmas to all, and to all a good night! And when I wake up, I'm gettin' a CAT scan! –Scott Calvin
The only thing you need to worry about is where you're going to buy your sweaters after the circus pulls out of town. –Scott Calvin
Weight? Does this look like a little weight to you? –Scott Calvin
Fluctuate? You make it sound like I'm retaining water. I've gained 45 pounds in a week. Pete, what's happening to me? –Scott Calvin
We're your worst nightmare. Elves with attitude. –E.L.F.S. Leader
That's okay, Neil. You were just denying your inner child. –Charlie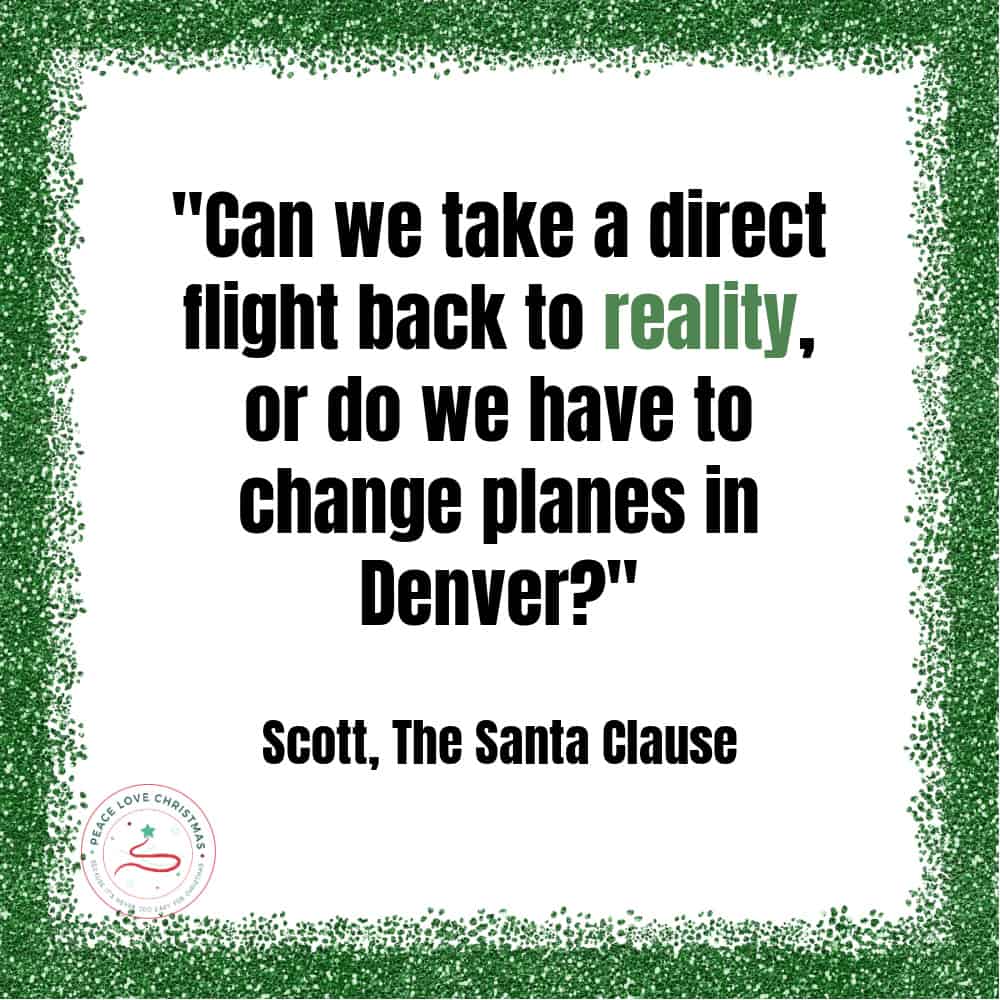 QUOTES FROM JINGLE ALL THE WAY
I enjoy watching Jingle All the Way each year during December. There are a few places that crack me up no matter how many times I see the movie.
Here are some great Christmas movie quotes from Jingle All the Way.
I gotta tell you, Santa, there's something about this place that doesn't seem quite… Kosher. –Howard Langston
You guys are nothing but a bunch of sleazy con men in red suits. –Howard Langston
At the North Pole, them are fightin' words, partner. –Mall Santa
How about these stupid letters from kids to Santa at the North Pole: "Dear Santa, Can you send me a bike and a slinky?" No! Your father's been laid off! –Myron
We get one day a year to prove we're not screw-ups and what do we do? We screw it up. –Myron
As if I didn't have enough trouble, my son sends me out for some goofy-butt toy. Some fruity robot named Turtle Man. –Myron
Howard, I'm of the mindset you can never do too much to make a child's Christmas magical. –neighbor Ted
I want the Turbo Man action figure with the arms and legs that move and the boomerang shooter and his rock'n roller jet pack and the realistic voice activator that says 5 different phrases including, "It's Turbo time!" Accessories sold separately. Batteries not included. –Jamie Langston
I work for the post office so you know I'm not stable! –Myron
Jingle Bells, Batman smells. –Mall Santa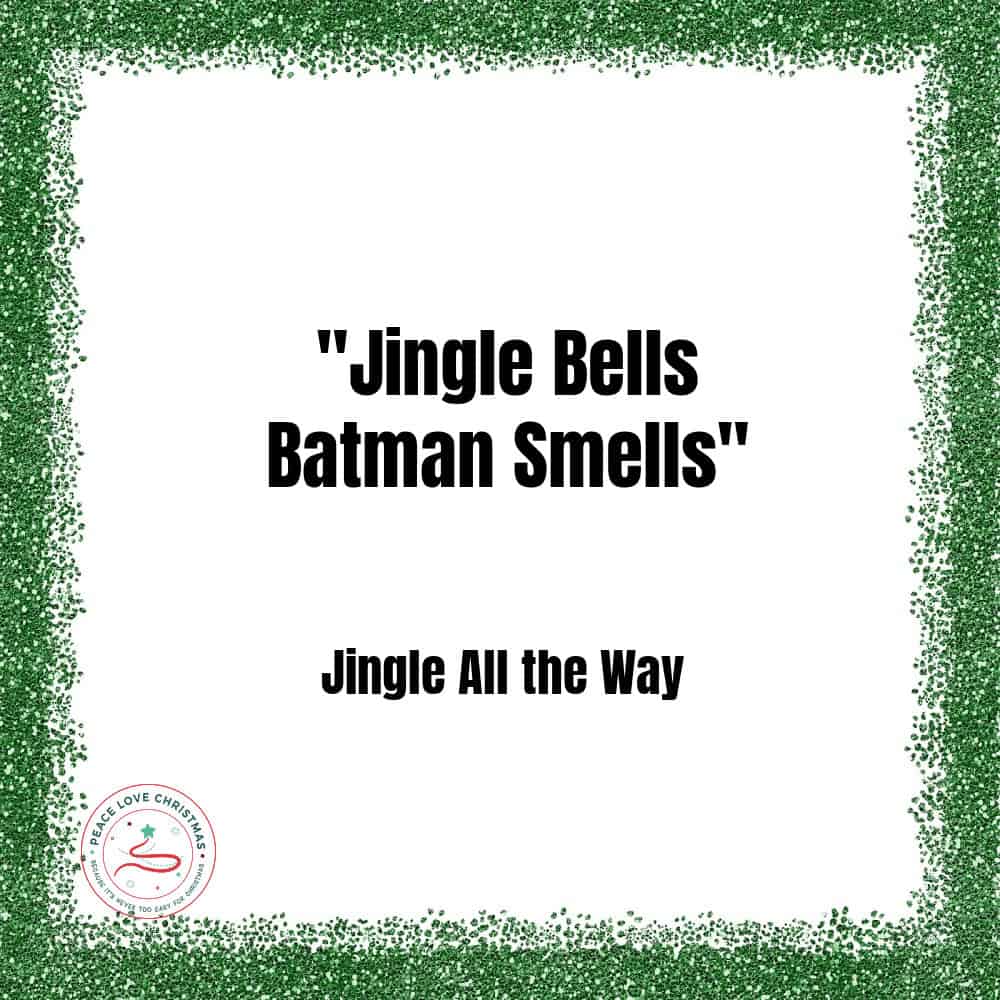 NON-MOVIE FUNNY CHRISTMAS QUOTES
I have seen some non-movie funny Christmas quotes that are worth sharing and that make me chuckle.
Here are my favorites.
Three phrases that sum up Christmas are: Peace on Earth, Goodwill to Men, and Batteries Not Included!
Don't blame the holidays, you were fat in August.
Be naughty, save Santa the trip.
Gonna go lay under the Christmas tree to remind my family that I'm a gift.
Why is Christmas just like a day in the office? You do all the work and the fat guy in a suit gets all the credit.
Christmas is the only time of the year you can sit in front of a dead tree eating candy out of socks.
There are three stages of a man's life: He believes in Santa Claus, He doesn't believe in Santa Claus, He is Santa Claus.
When you stop believing in Santa you get underwear.
Santa Claus has the right idea. Visit people only once a year. –Victor Borge
I once bought my kids a set of batteries for Christmas with a note on it saying toys not included. –Bernard Manning
Anyone who believes that men are the equal of women has never seen a man trying to wrap a Christmas present.
I'm only a Christmas person on December 25th.
If you loved these funny Christmas quotes be sure to check out some other ideas for the holidays!
Be sure to PIN this for LATER and SHARE on FACEBOOK!