This year, upgrade your family's advent calendar with this DIY Advent Calendar with Mason Jar Lids. Advent calendars nowadays typically come in a box with small numbered doors to open each day; are they a little overrated? If you don't want to open little doors for a treat, you could pop some lids!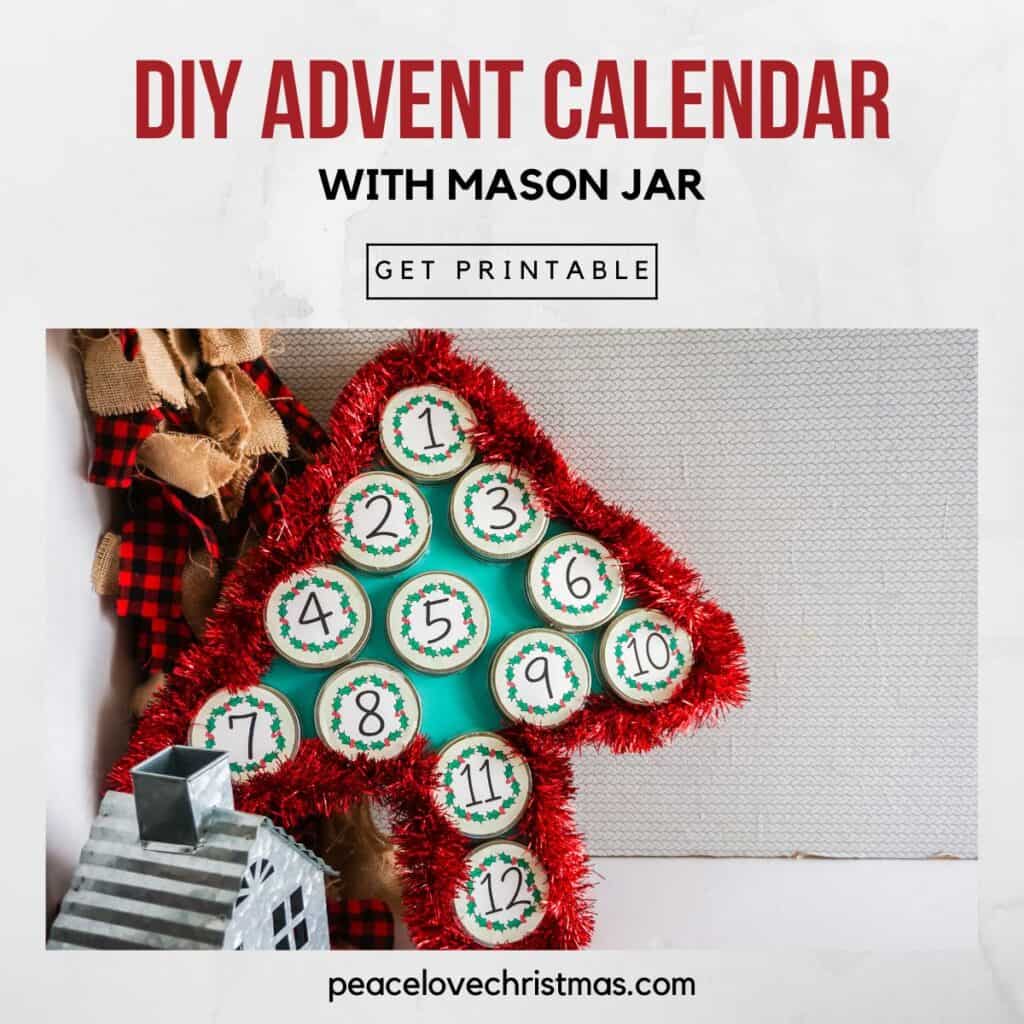 What is an Advent Calendar?
Before we get into what exactly advent calendars are, let's take a quick look at what advent is. The term "advent" is derived from the Medieval Latin word "adventus," which meant "coming" or "appearance" and "arrival, henc, advent is a special time of year when Christians await the commemoration of the birth of the Christ child, lasting 24 days, or four preceding Sundays leading up to Christmas day.
Let us now discuss the Advent calendar. This is not your typical calendar; it is a great and exciting way to countdown the days leading up to December 25, the day the birth of Jesus Christ is celebrated. The advent calendar is not a new trend started by a famous celebrity or social media influencer; rather, it is a long-standing tradition that dates back to the 1850s.
Advent calendars typically consist of 24 doors or mini boxes that are supposed to be opened every day in December leading up to Christmas. These little doors or boxes contain a variety of items; some contain pictures that reveal scenes from the Nativity story, others contain pieces of chocolates and candies, and still others are more elaborate and expensive, containing toys, make-up, gifts, and so on.
Why Make Your Own Advent Calendar?
The best way to anticipate and build excitement for Christmas is to use an Advent calendar, which will not only help you track down the days but will also make you anticipate small gifts ranging from candies, toys, make-up, and anything else for each passing day.
As the last week of November approaches, well-known retailers begin to stock advent calendars on their shelves. Purchasing store-bought calendars is a quick and easy way to join the Advent calendar tradition. However, because this is store-bought and manufactured by the same company, the small gifts that come with it are unlikely to be unique.
So, why not make your own Advent calendar? If you make your own, you will be surprised at how creative you are and how enjoyable the process is. Furthermore, making your own Advent calendar allows you to plan the contents in accordance with your chosen theme. Making your own Advent calendar will undoubtedly make it more exciting and memorable.
Do Kids Like Advent Calendars?
Children enjoy surprises and certainly enjoy toys, candies, and chocolates, and Advent calendars are a combination of both. These Advent calendars will help you get your children in the holiday spirit while also keeping the flame of excitement burning within them as the days pass.
There are Advent calendars designed specifically for children, particularly those produced by well-known toy companies such as Disney, LEGO, and Roblox, though you can also purchase them from your local supermarket or retail store. Typically, these Advent calendars are filled with toys and mini chocolates for your children to enjoy.
What Should I Use to Fill Each Hole?
Advent calendars can be used by both children and adults; it all depends on what you put inside those doors or boxes of surprises. So, if you decide to make your own Advent calendar this year, here are some ideas for items to include in your Advent calendar.
If you make an Advent calendar for children, the sky is the limit in terms of what you can include to brighten their day and get them excited for the upcoming Christmas day. So here's a quick list of items that kids enjoy and that you might want to include in your Advent calendar.
Toys
Toys are, of course, at the top of this list! Toys are enjoyed by all children, regardless of gender; you may include dolls, action figures, guns, doll houses, and any other toy that your children enjoy.
Books
Some children enjoy reading, while others do not; however, they all go to bed to sleep, which means bedtime stories! This is a fantastic inclusion because it serves educational purposes. You could include Bible-based story books.
Art Materials
Kids are their own artists; they adore anything vibrant and colorful, so why not arm them with the tools to create their own vibrant worlds? Sharpies, crayons, colored pencils, and other similar items may be included!
Coloring Books and Stickers
You don't want your house to be a blank canvas for them to color on, do you? So don't forget to include some coloring books with Bible stories or their favorite cartoon characters like Barbie, Spiderman, Mickey Mouse, and so on! Stickers are a great addition as well!
Snacks and Chocolates
Finally, don't forget to include items that will satisfy their little tummies; you can include their favorite snacks and chocolates, as well as items that you want them to try. Just be careful not to overindulge in sweets; you don't want your child to be in pain due to toothache on Christmas, do you?
Advent calendars, as previously stated, are intended to be enjoyed by adults as well as children. If you are thinking about making an advent calendar for adults, consider the following items:
Pamper Items
Of course, pamper items are first on the list, which means including hygienic items such as a cologne or perfume that reminds them of you, a soap, lotion, or body wash that you want them to try, and make-up for the ladies in particular.
Scented Candles
We're guessing that scented candles are every adult's holy grail these days, and who can blame them? Scented candles have the ability to lighten the mood, remove negative energy, and generally improve the vibe of the entire environment, which is exactly what adults require, right?
A Shot of the Favorite Drink
For the ladies, you could add shots of wine, champagne, or even coffee or fresh milk, or anything else they enjoy drinking or that you think is worth trying. For the gents, you can add some shots of liquor, preferably in miniature sizes.
Steps on DIY Advent Calendar with Mason Jar Lids
Advent calendars don't always have to be in one big box with numbers and little doors in it; you can always mix and match to make it more special and enjoyable. Making a traditional Advent calendar out of mason jars is one way to upgrade it.
No worries, this DIY Advent Calendar with Mason Jar Lids is as simple as it appears and can be completed in a matter of minutes! Mason jars make the best Advent Calendars because they come in a box of twelve and come in a variety of sizes from which you can choose depending on what you plan to put inside.
So, if you want to improve your Advent calendar game this year, simply follow the steps below for the best results!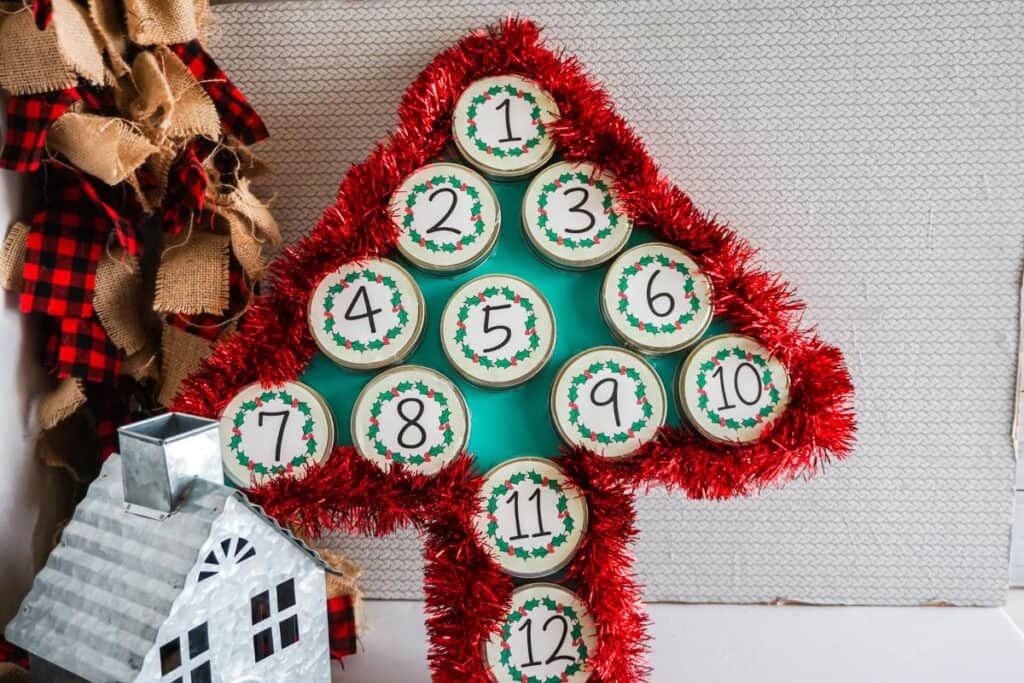 STEP 01: DRAW CHRISTMAS TREE SHAPE
Draw a Christmas tree on cardboard to serve as the calendar's base. All you need to do for this step is draw a triangle and a small square below it to serve as a stand. Check that all 24 mason jar lids fit inside the triangle.
STEP 02: CUT WHAT YOU HAVE DRAWN
Once you're certain that each side of your triangle is proportionate to the others and that all of the two mason jar lids fit, you can begin cutting your base. You can use scissors, but a cutter will produce better results.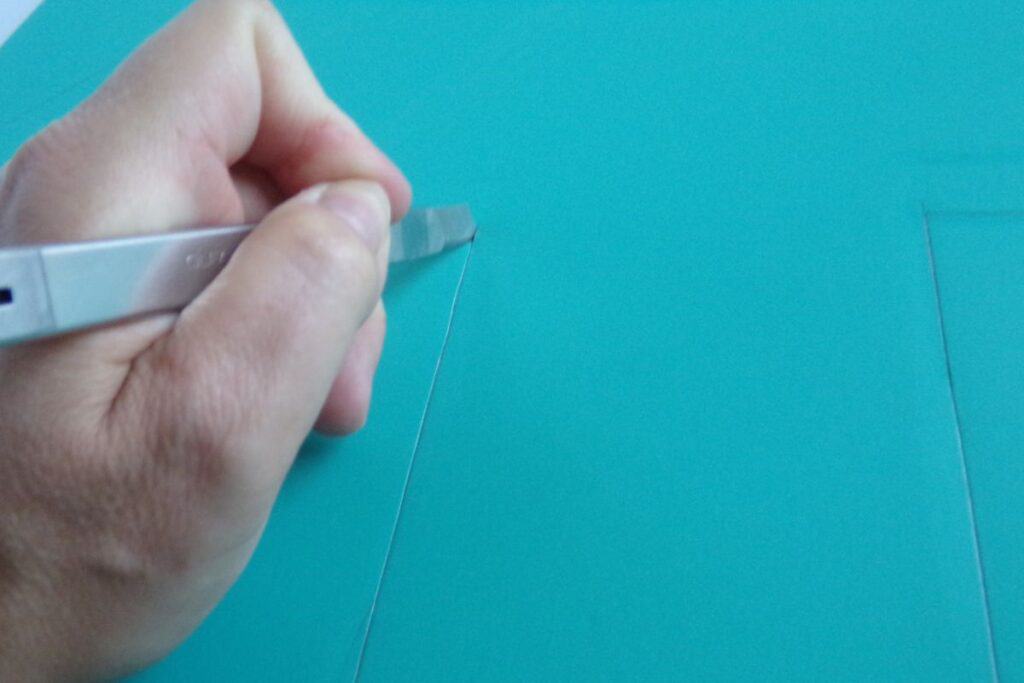 STEP 03: POLISH THE BASE
To ensure the quality of the outcome, after carefully cutting your base, ensure that all edges are polished and no imperfect sides are visible to the naked eye.
STEO 04: CUT THE LABELS
After you've finished cutting and polishing your base, turn your attention to the printed labels. Make sure you cut as close to the circle as possible; you don't want extra white paper lingering around your advent calendar's label.
STEP 05: MARK
Now, start marking where each mason jar lid will be placed. This step is critical, and it will determine the position and overall appearance of your advent calendar.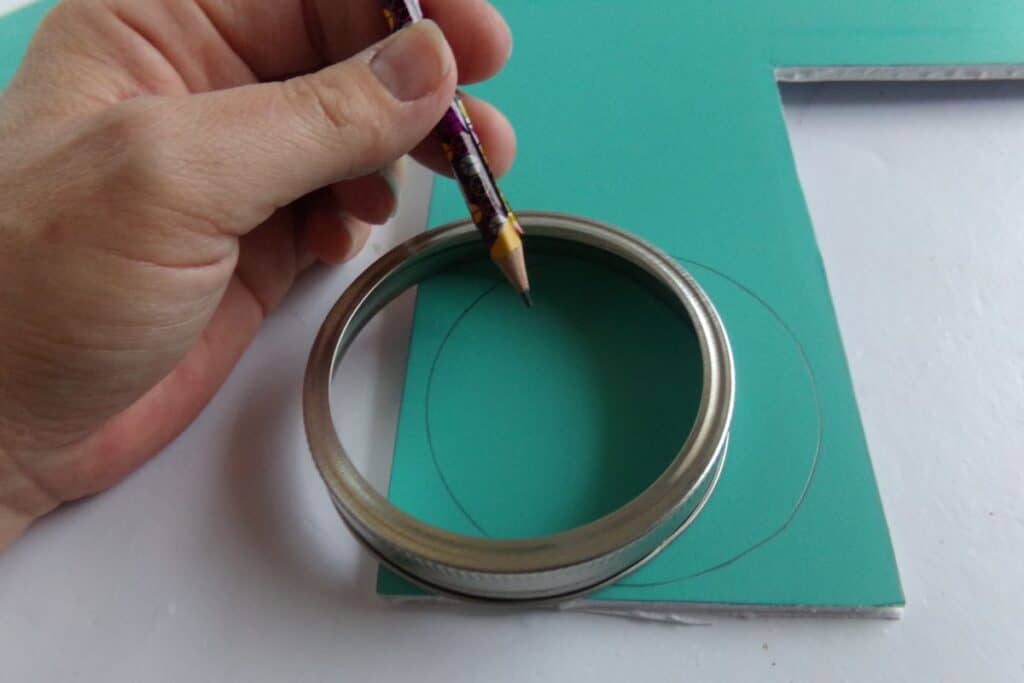 STEP 06: STICK IT ON
After you've successfully plotted the position of each mason jar, it's time to individually adhere them. You are free to use any type of adhesive you want, but for the best results, I recommend using hot glue and a glue gun.
STEP 07: PRESS
Gently press the mason jar lids on your base to ensure a strong bond. Making sure it's securely fastened will keep it from poking out or falling once you've hung it.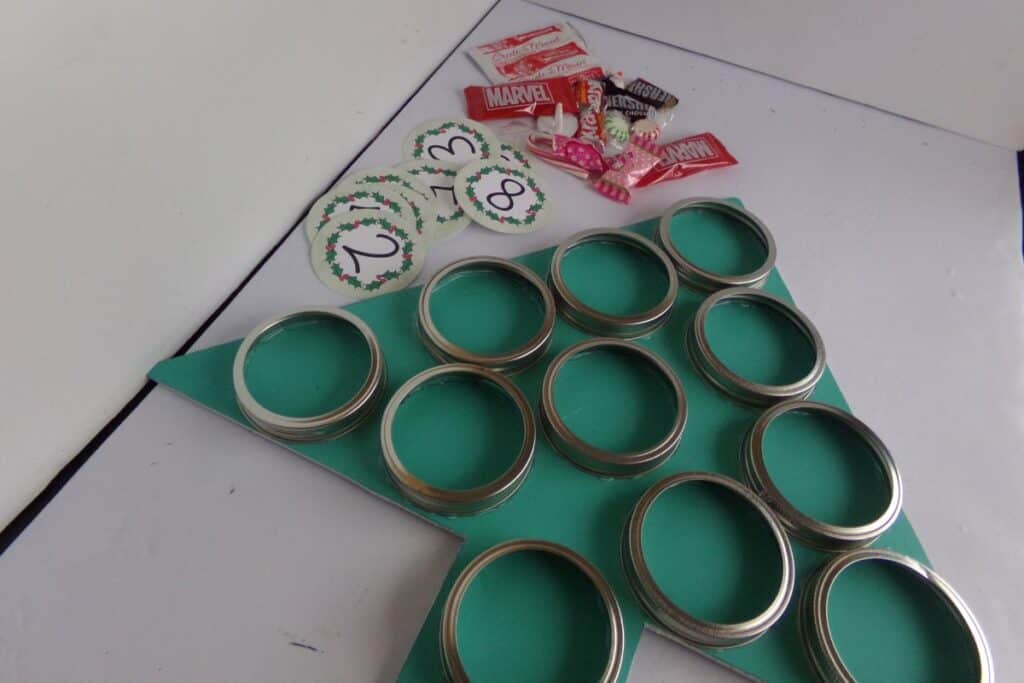 STEP 08: PUT THE GIFTS
Wait for the hot glue to dry; once it has, it is time to place the gifts that you have prepared. You can simply place it in the individual mason jar lids, or you can individually wrap it for an added surprise for the recipient.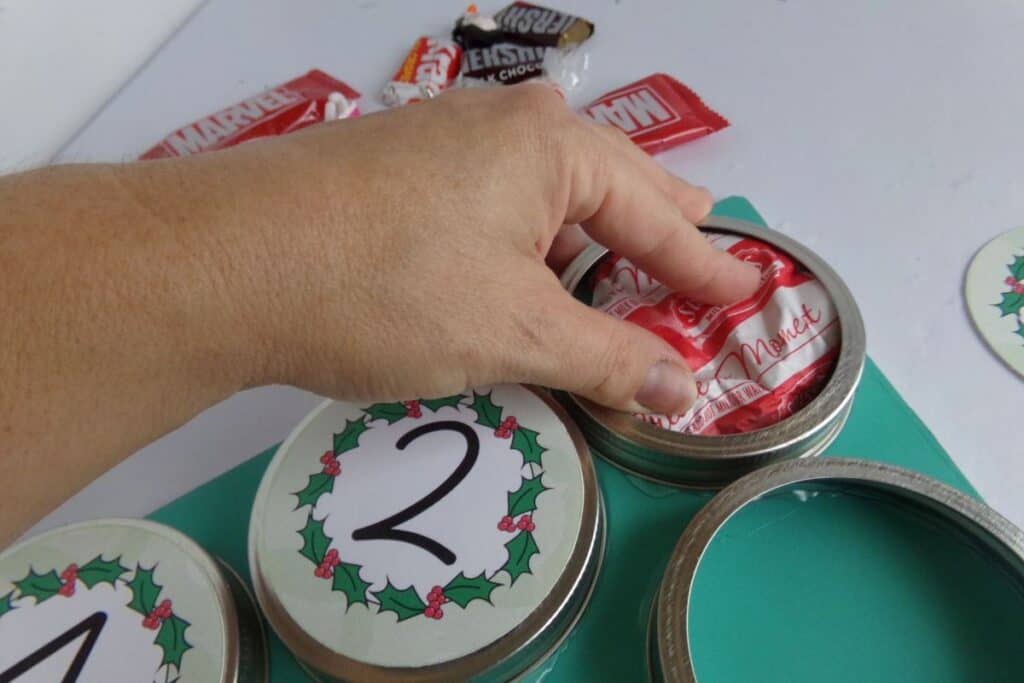 STEP 09: LABEL IT
After you've putting up the gifts, its now time to cover it up. Of course, advent calendars must be numbered so that the recipient knows which one to open on which day. Print out this free printable from Peace, Love, Christmas to use as a guide for this step and then number the jar lids accordingly.
STEP 10: PREPARE TO HANG
You may now want to flip your base to see if the gifts or the mason jar lids themselves will fall. If it did not, attach a ribbon to the peak of the triangle. This will be used to hang your advent calendar.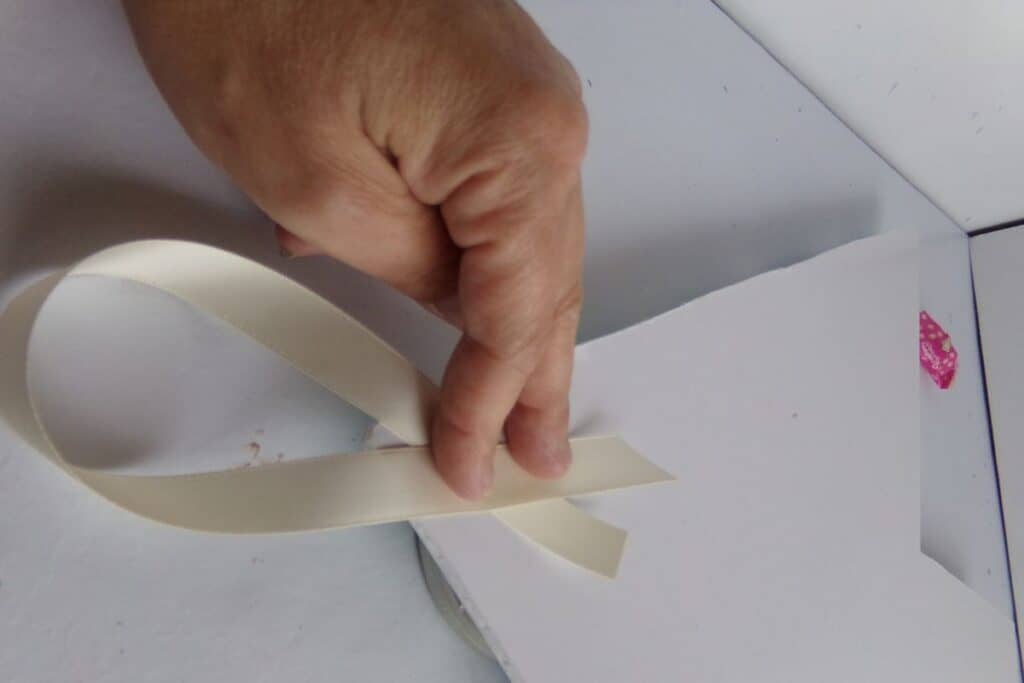 STEP 11: DECORATE
Now that everything is in place, it's time to let your creative juices flow. You are free to decorate your advent calendar however you want, but I wanted to keep it simple, so I just added some red garlands to the sides.
DIY Advent Calendar with Mason Jar Lids How-To Card
Now that you've learned everything there is to know about DIY Advent Calendar with Mason Jar Lids, it's time to print or save the instructions. The complete materials and instructions for the Dollar Tree Jenga ornaments can be printed using the how-to card below.
No worries if you don't have time to print it right now! Simply save the pin to your Pinterest account by clicking the pin button in the instructions card below.
If you make this craft and enjoy it, please leave a 5-star rating. It would mean the world to me!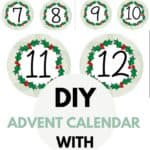 Print
DIY Advent Calendar with Mason Jar Lids
This DIY Advent Calendar with Mason Jar Lids is a lot of fun to put together and will definitely up your Advent calendar game!
Materials
Mason Jars

Craft Paper or Any Wrapping Paper

Printed Numbers

Gifts
Instructions
Begin by gathering the necessary supplies, such as mason jars, craft or wrapping paper, and printed or sticker numbers.

Wrap the outside of the mason jars in your preferred craft or wrapping paper to keep the gift inside hidden until the jar is opened.

Label the jar lids with your printed or sticker numbers.

Place the prepared gifts inside their respective jars.
MORE CHRISTMAS ACTIVITIES
You will undoubtedly enjoy this advent calendar, and to make things even more special, you may want to try the following Christmas activities.
Be sure to PIN this for later and SHARE it on Facebook!