As the holidays approach you may be wondering how to pick the right nativity set for your kids. It is nice to have a nativity set that children can touch, play with, and also learn from. Luckily there are several options available once you know what to look for in a set.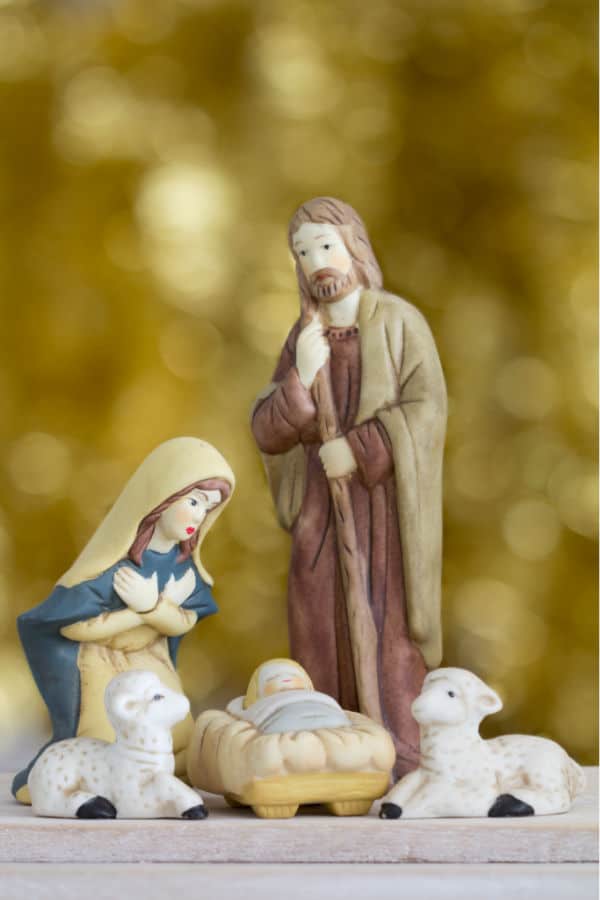 WHY HAVE A CHILDREN'S NATIVITY SET?
Many families celebrate Christmas for the truer meaning of the holiday. They want to teach their children that there is more to December than gifts and Santa Clause.
The best reason for having a children's nativity set is that the figures and pieces of a nativity set can make information about the people and events of the Nativity concretely understandable for children.
Instead of having the parts of delicate family heirloom nativity sets broken through careless handling by children using them to act out Nativity stories, thoughtful parents can provide children with their own safe, attractive, and kid-friendly nativity sets.
Kids learn so much through play and a children's nativity set is the perfect way for them to play out the story of Jesus' birth. Learning how to pick the right nativity set will make teaching kids about Christmas easy.
HOW TO PICK THE RIGHT NATIVITY SET FOR YOUR KIDS
When you buy a children's nativity set it is nice to get something that is kid-friendly, but that will also last for years to come.
Here are some things to consider to help you know how to pick the right nativity set for your family's needs.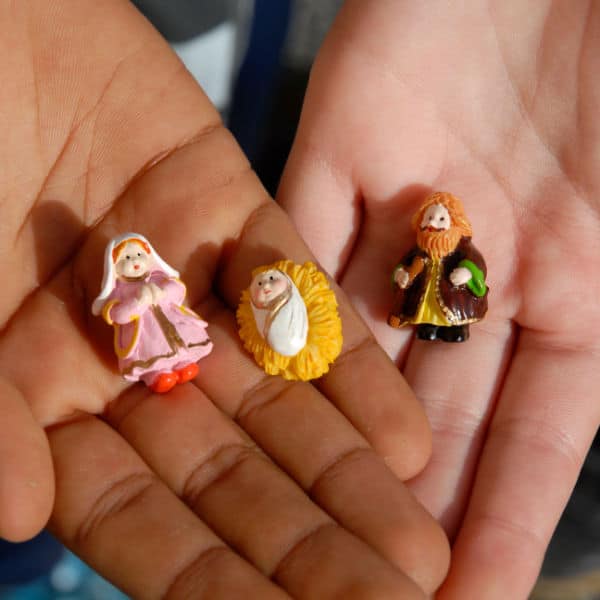 PLASTIC NATIVITY SETS
A plastic nativity set may be the best option for families with very young children. Sets such as the Peanuts Nativity Set
may include popular brand-name characters that children know and love playing the nativity figures. Careful parents should not assume that all plastic sets are appropriate for all age groups, however. While a Nativity set by Fisher-Price
will most likely be safe from birth up, a Playmobil Nativity Set
full of high-quality, detailed plastic pose-able figures will include many small pieces that, while conducive to good imaginative play, present a choking hazard to small children and will be difficult for younger kids to keep track of.
Pros include:
Plastic and rubber are durable materials.
The figures from many plastic nativity sets are made with smooth, rounded corners and painted with bright, attractive colors for safe and engaging play.
Plastic sets are often very reasonably priced.
Cons include:
Plastic sets are made using petroleum resources, will not be easy to recycle down the line, and might potentially contain harmful chemicals or artificial substances.
Plastic is not a material that appeals to all tastes.
CLOTH OR FABRIC NATIVITY SETS
A cloth or fabric nativity set by a brand such as Pockets of Learning is another fine choice for families with very small children. Soft sculpture nativity sets and felt board nativity sets are both generally safe and can inspire many hours of fun play.
Pros include:
Figures made of soft plush and velour fabrics can be appealing and safe even for babies.
Felt board figures, especially ones handmade by a family, can be an inexpensive alternative to more costly Nativity set materials, as well as providing great tools for acting out various Biblical scenarios.
Cons include:
Fancier fabric figures must be checked carefully to be sure that any decorative details such as yarn hair, tiny buttons or beads, or small felt balls will not pull loose and pose a choking hazard to small children.
Fabric may wear badly, get dirty, or tear with hard play over time.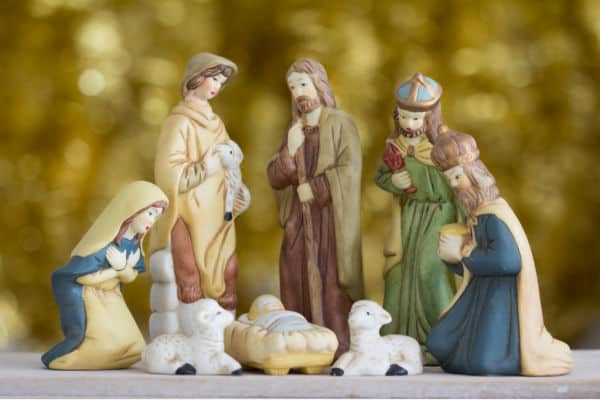 WOODEN NATIVITY SET
Wood nativity sets have the advantage of being durable, beautiful, and generally ecologically friendly. The best sets are made with all-natural materials, non-toxic finishes, and lead-free paints and can be used for generations as an heirloom nativity set.
Cheaper wooden Nativity sets by brands such as Learning Journey, Maxim, Kurt Adler, North Star Toys, and Haba are often offered as a package, with stable and figures bundled together. These sets are often specifically designed for children and include appealing figures whose designs are heavily influenced by folk art.
More expensive nativity sets can be assembled by investing in stables and figures from imported German brands such as Kinderkram, Ostheimer, Holtziger, and Kathe Kruse. The wooden creche scenes built from pieces from these lines will stand up under hard play for years to come, as well as look stylish as part of the family Christmas decorations. So long as consumers keep in mind the scale of figures and stables, pieces from different brands can be mixed and matched for an eclectic, personalized effect.
UNIQUE NATIVITY SETS FOR KIDS
There are now some different and unique nativity sets that may appeal to you and your family. As you are figuring out how to pick the right nativity set you may want to consider something totally different.
Magnetic nativity play sets are usually enclosed in a metal container of some kind and are great for traveling. They can be taken along on road trips during December. You can even make your own DIY magnetic nativity set.
Teach the children the Christmas story using a nativity baking set. This is a set that obviously won't last since you will end up eating it. It is a fun Christmas activity though.
A nesting nativity set is like a set of Russian nesting dolls. The nesting dolls are different and are different people from the Christmas story. These don't take up much space and young kids love to open each doll and find another one inside.
Regardless of whatever nativity set your family purchase or makes, involved parents must never forget the ultimate purpose of the set. As enjoyable as it can be to collect and play with the parts, both parents and children should remember the meaning behind each piece and be sure to take time out each holiday season to reread and discuss the story of the Nativity, using the set as a focus for this important family activity.
Be sure to leave a comment and let me know which type of set you will get for your family!