Use this short Christmas Eve Devotional to make your celebration meaningful as you focus on the birth of Jesus, the Savior.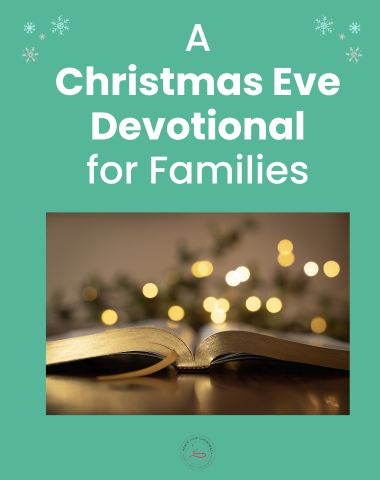 Family Devotion for Christmas Eve
Share About Your Birth Day
Think about what you've been told about the day that you were born – your birth day. (If you don't know the answers to some of these questions, that's okay! Share what you do know.)
Where were you born?
What season was it? Was it hot or cold outside?
Who was there to greet you coming into the world?
Were you born in the daytime or the middle of the night?
When did you come home?
Did you like to be swaddled up tight or did you prefer to kick your feet?
How did you like to be fed, rocked, or held?
Did you cry a lot?
Each time a baby is born, it's an exciting and special time. Read the story of Jesus birth day below.
Read the Christmas Story
Read aloud the Christmas Story in Luke 2 about the day Jesus was born:
In those days a decree went out from Caesar Augustus that all the world should be registered. This was the first registration when Quirinius was governor of Syria. And all went to be registered, each to his own town. And Joseph also went up from Galilee, from the town of Nazareth, to Judea, to the city of David, which is called Bethlehem, because he was of the house and lineage of David, to be registered with Mary, his betrothed, who was with child. And while they were there, the time came for her to give birth. And she gave birth to her firstborn son and wrapped him in swaddling cloths and laid him in a manger, because there was no place for them in the inn.

And in the same region there were shepherds out in the field, keeping watch over their flock by night. And an angel of the Lord appeared to them, and the glory of the Lord shone around them, and they were filled with great fear. And the angel said to them, "Fear not, for behold, I bring you good news of great joy that will be for all the people. For unto you is born this day in the city of David a Savior, who is Christ the Lord. And this will be a sign for you: you will find a baby wrapped in swaddling cloths and lying in a manger." And suddenly there was with the angel a multitude of the heavenly host praising God and saying,

"Glory to God in the highest, and on earth peace among those with whom he is pleased!" When the angels went away from them into heaven, the shepherds said to one another, "Let us go over to Bethlehem and see this thing that has happened, which the Lord has made known to us." And they went with haste and found Mary and Joseph, and the baby lying in a manger. And when they saw it, they made known the saying that had been told them concerning this child. And all who heard it wondered at what the shepherds told them. But Mary treasured up all these things, pondering them in her heart. And the shepherds returned, glorifying and praising God for all they had heard and seen, as it had been told them.

Luke 2:1-20, ESV
Learn about Jesus, Our Savior
Every time a new baby is born, it's a special moment. We are amazed at the new life God has created.
Jesus' birth was even more amazing because he was both fully human and fully God. Jesus, the Son of God, came into the world to suffer and die on the cross, then rise again, to be our Savior. At Christmas, we honor the day that Jesus came into the world as a human baby to save all people.
How do you think Mary and Joseph felt when they realized their baby would be born in a stable?
How is Jesus' birth day similar to the day you were born? How is it different?
How can you honor Jesus during your Christmas celebrations this year?
Pray to God
Pray this prayer together.
Jesus, thank you for being born into the world to save us. Thank you for my life, too. I want to honor and serve You. Help me remember that the most important part of Christmas is not the presents, food, or parties. You are the reason for Christmas, and You are what matters most. Amen.
Activities to Make Christmas Extra Meaningful
Do one of these activities to make the holidays more meaningful:
Serve a birthday cake for Jesus. Light candles and sing "Happy Birthday" to him on Christmas day.
If you have a nativity set where the baby Jesus is separate from the manager, place the empty manger near or under the tree. Put the baby Jesus in the manger on Christmas morning.
Invite young children to choose a baby doll. Show them how to create a swaddle with a blanket. Create a manger with a shoe box, and play Nativity Story pretend.
Light a candle or light the candles on an Advent wreath as you read this devotion together.
How to Use this Christmas Eve Devotional
This free and inspirational devotion is for:
Families to read together on Christmas Eve or Christmas Day
Before opening gifts
Before Christmas dinner
Toddlers, elementary school children, all ages, and adults
All Christian church denominations
Sunday School
Church groups, gatherings, or
A Christmas party
Daily devotion and journaling for Christmas Eve
Children's messages
Children's church
Note: Some children may have a complex or difficult birth history or family situation. Some may be adopted, spent time in foster care, or their parents are not married to each other. Be sensitive to this when asking the opening questions about the day they were born.
More Christian Christmas Resources
25 Short Christmas Bible Verses for Preschoolers and Toddlers
A Short Christmas Eve Devotional for Families
100 Christmas Traditions to Consider Starting